Terms of Regain STUDIO / Printer-Framer partnership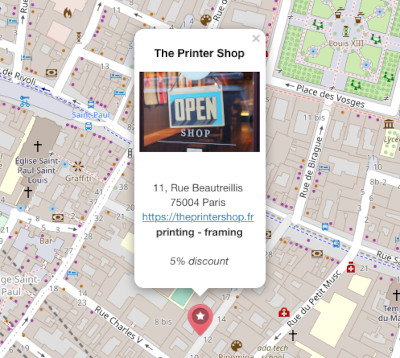 Regain STUDIO offers its customers the possibility of locating a printer-framer near them. Interested printers-framers can register for this partnership and thus be present on the map of referenced printers-framers. On this map each printer-framer is precisely geolocated with a marker containing information about his shop (address, services, website link…). The printer-framer can also indicate the discount he will offer to customers for printing or framing an image of Regain STUDIO. These informations can be modified by contacting us by email. They are strictly used only on our map and are in no case transmitted to any third party.
The printers-framers referenced on our Printers-Framers Map page are solely responsible for the work they carry out. Under no circumstances can Regain STUDIO be held liable.
Registration is free. Referencing can be terminated at any time without justification by either party (Printer-framer/Regain STUDIO) simply by sending an email.
In exchange for this highlighting of the printer-framer on Regain STUDIO site, we ask for a backlink to our site (see below) from the site of the referenced shop.
This backlink is not obligatory but it will of course be very appreciated. It is in the common interest of our customers.
Backlink code
You can use one of the following HTML codes to insert backlink on your website :
| | |
| --- | --- |
| HTML code | giving… |
| <a href="https://studio.regain.space" target="_blank"><img alt="printable wall art, instant download" src="https://studio.regain.space/bans/ban_RegainSTUDIO_1.png"></a> | |
| <a href="https://studio.regain.space" target="_blank"><img alt="printable wall art, instant download" src="https://studio.regain.space/bans/ban_RegainSTUDIO_2.png"></a> | |
| <a href="https://studio.regain.space" target="_blank">Regain STUDIO :: Printable Wall Art :: Instant Download</a> | Regain STUDIO :: Printable Wall Art :: Instant Download |
| <a href="https://studio.regain.space" target="_blank"><img alt="posters et affiches telechargeables" src="https://studio.regain.space/bans/ban_RegainSTUDIO_1_fr.png"></a> | |
| <a href="https://studio.regain.space" target="_blank"><img alt="posters et affiches telechargeables" src="https://studio.regain.space/bans/ban_RegainSTUDIO_2_fr.png"></a> | |
| <a href="https://studio.regain.space" target="_blank">Regain STUDIO :: Posters/Affiches t&eacute;l&eacute;chargeables</a> | Regain STUDIO :: Posters/Affiches téléchargeables |